In his four years as Lower Columbia College president, Chris Bailey has overseen the completion of the Health and Science Building and a new Fitness Center.
He's championed the University Center, which connects LCC students with four-year degree programs, and the college's international student program, which he sees as a keyway for the local community to the world.
Many people in the college community describe Bailey, 54, as a charismatic salesman who is adept at bringing the college money for scholarships and programs. The college continues to play an important community economic role, having awarded nearly 900 degrees and certificates this year.
But a rift has opened between Bailey and the college's faculty and staff, some of whom call Bailey a divisive leader, a top-down manager who alienates staff. In their view, Bailey's autocratic leadership chased away three vice presidents in the past two years.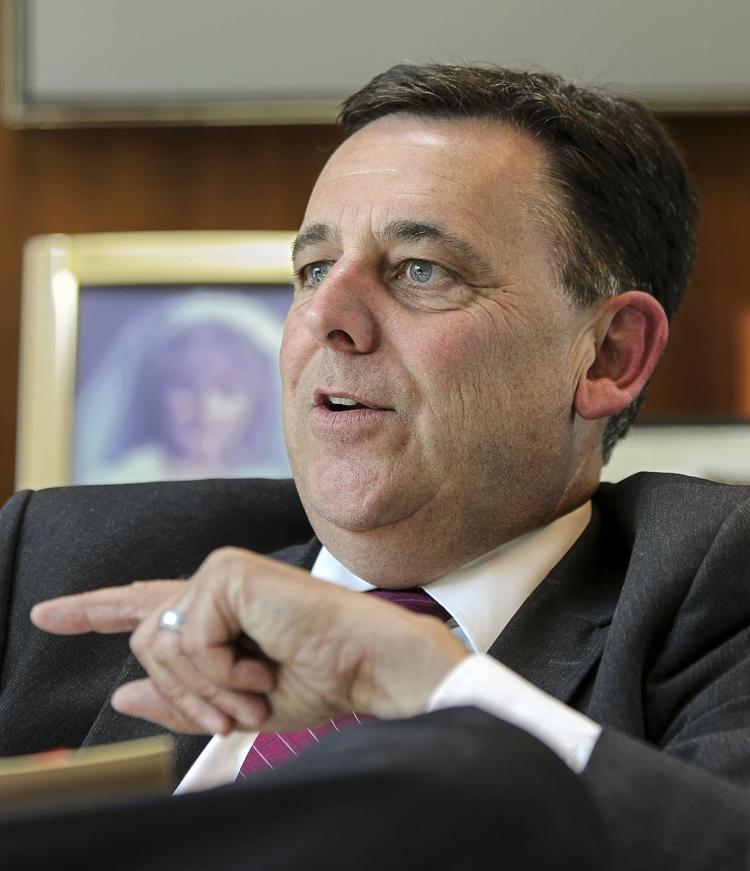 On May 20, the faculty union presented the Board of Trustees with a list of concerns about Bailey's leadership. The Board interviewed five faculty members about the concerns, but after a two-hour executive session Wednesday decided only to issue a statement in support of Bailey.
"The board of trustees will continue working with President Bailey to improve and promote greater collaboration, shared governance, and respect on campus," it read.
Classified staff union president Tracy Stanley was disappointed with the board's action.
"It shouldn't be this hard" to communicate, she said. "We'll continue to lose staff (if this isn't resolved). That eventually affects enrollment."
Bailey said he was surprised by complaints that he was a top-down manager.
"To me that was a little bit of a stunner. I've always had good relationships," he said. "I'm very extroverted. I tend to think out loud. … I'm having to adjust my style to (the faculty's)," which he described as more analytical and deliberate.
In an interview Thursday, Bailey defended his leadership style but acknowledged that he needs to find a better way to communicate with faculty and staff. He said he's begun new quarterly open staff meetings, more online news postings and is restructuring executive committees to include more representatives from across the campus.
"We've worked really hard on the campus environment," he said. "We want to make sure there's not some sort of division on campus."
Lisa Mayte Edwards resigned last month after five years as Vice President of Student Success and is now Vice President of Student Affairs at Arapahoe Community College in Colorado. Faculty union president Adam Wolfer said her resignation was a huge loss for the college, calling her "one of the most experienced educators we (had)."
Edwards said Bailey threw temper tantrums in response to criticism, which she said he frequently dismissed as negativity. When the faculty redesigned administrative evaluations to be anonymous and to include more perspectives, Edwards said Bailey protested and was upset when his evaluators criticized him.
"Chris doesn't have any respect for faculty and in turn the faculty doesn't have any respect for Chris," she said.
That's certainly not a universal view, though.
Staff, foundation members and Bailey's executive secretary, Linda Clark, expressed support for Bailey at the June 17 Board of Trustees meeting.
"The labels of 'quirky,' 'bad personality' in regards to Chris Bailey are totally opposite of what most of us think," Clark wrote in an email statement. "Chris is outgoing, passionate about this college, extremely compassionate and an overall nice, nice man."
Though he acknowledged he has had disagreements with his staff, Bailey said he does not view criticism as negative and never threw tantrums.
"There's never been a circumstance that I can recall where I lose my temper," he said.
Bailey said he doesn't consider the loss of three vice presidents in two years a large turnover, considering what he describes as a stressful climate created by an almost 25 percent budget cut since 2008.
The faculty has criticized him for not already replacing Edwards, something he said he's not planning to do until next summer because the delay is saving the college $130,000 in salary and benefits, enabling the college to hire other staff.
Grace Leaf resigned in July 2014 as Vice President of Instruction after only seven months and now works as a program administrator for Washington State University in Spokane. She said Bailey cut her out of budget decisions and slashed her department's allocations by $800,000 without consulting her.
"It wasn't a deliberative process," she said.
When she wrote an email to college deans to rally and protest the cuts, she said, Bailey pulled her into his office with HR Director Kendra Sprague and ranted for three hours that she was being negative.
"I was treated like my hand was in the cookie jar," she said. "They were both there clearly for disciplinary conference rather than (to talk about) how could this have gone better."
Bailey contended that Leaf knew about the cuts ahead of time and that every college department took cuts to fill in the $1.45 million budget gap. (The college's 2013 operating budget was $21 million.)
"We barter a little bit," he said. "We all have to compromise. In those circumstances, I don't just ask vice presidents to advocate for their staff … but to think like a CEO and utilize resources to their best."
Bailey declined to comment on Leaf's letter because of personnel confidentiality issues.
Wolfer also said faculty are being left out of discussions about how the college can absorb budget cuts and declining enrollment. (Enrollment is down, but it is still 15 percent above the number of students the state finances.)
"There lies the place where we disagree," said Wolfer, the faculty union president. "(Bailey) feels we've had a lot of opportunity for input. … We have a lot of expertise in the faculty and staff ranks that has not been utilized."
The international program
Even one of Bailey's proudest accomplishments, the growth of the international student program, has come under fire.
The college next fall will have 15 foreign students, the most in at least 13 years. These students, Bailey said, increase campus diversity and boost revenue (they pay full out-of-state tuition).
Housing them, however, has been a problem. Wolfer and Edwards said Bailey's decision to buy 11 apartments in a complex on Olympia Way last year for $660,000 was not well thought out. Only one international student is renting an apartment, and the college has learned that many foreign students prefer living with host families. Though the college has been able to rent the units out to other tenants, it will have to turn away prospective international students if it can't find them host families.
Despite winning the Board of Trustees' affirmation, Bailey clearly has some fences to mend.
"Personally, I don't know that he could repair those relationships," said Stanley, the classified union president. "There is a lack of trust, and once you lose trust, you really become an ineffective leader."
Bailey, though, said he'll try to get to the root of the faculty and staff frustrations.
"I think they realize we're working hard," he said of the Board. "They also see that we need to be able to find mechanism to communicate."