You can draw similarities between Joe Moses and Will Rogers: Neither ever met a man he didn't like.
"Joe never said he didn't like anyone, and no one ever had a bad thing to say about him," longtime friend Bill Ammons said. "He was a very humble, super guy, and I never met a man who had so much respect from so many people."
Moses, a local coaching icon for whom the basketball court at R.A. Long High School is named after, died Sunday at the Hospice Care Center. He was 98.
"Joe was not only a good hoop coach and was fun to play for, he was also a great friend," former player and longtime area coach Gary Earnest said. "He was a very caring and thoughtful man. He didn't have any children of his own, but he considered all of his former players as his kids."
Born in October 1914 in Castle Rock, Moses had five brothers and two sisters, and the family lived in a house on A Street. His parents owned a store downtown called the Golden Rule, which sold general merchandise, clothing and shoes. It was later occupied by Hattie's restaurant.
"We nailed a wooden crate to the shed in the alley and shot baskets with a rubber ball," Moses recalled in a story by Jim LeMonds on the writeteknorthwest.com web site. "There were only two outdoor baskets in Castle Rock. Wendell Dougherty and Leonard Hart had those. All the kids showed up at their houses to play ball."
Countless hours of practice fine-tuning his shooting made the 5-foot-5 Moses one of Southwest Washington's top basketball players of the 20th Century. As a senior, he led the Rockets to an undefeated season and state title in 1932.
Moses wasn't planning to go to college until his younger brother Ed was recruited by Western Washington College (now University).
"They offered Ed a scholarship, but he said he'd only go if they took me, too, so they did," Moses recalled.
Moses started all four years at Western (1937-41) where he led the team in assists each year and was named to the all-conference team each season.
After college, Moses and his brothers formed their own amateur team that barnstormed Southwest Washington. In 1942, the Moses brothers squared off against the Harlem Globetrotters at Winlock High School.
"It was the only game we lost," Moses recalled. "We had 'em and then we let it get away at the end. They beat us by two."
After the game, the Globetrotters' promoter asked the Moses brothers to accompany the Globetrotters on a national tour, but they declined because of family obligations. The team disbanded in the 1950s when Ed moved to Spokane.
Moses began coaching in 1941 at Ryderwood High, and after a stint serving in World War II, came home to coach and teach at R.A. Long High School. From 1946-57, he taught history and coached basketball, compiling a 115-28 record, seven league titles and seven state tournament appearances.
"Joe stayed in contact with his players after they got out of high school," said Earnest, who played for Moses until his graduation in 1953. "He really appreciated all of the athletes who played for him."
In addition to coaching and teaching, Moses was active as a referee in youth and adult sports locally, and he was instrumental in forming the annual Longview Invitational Softball Tournament during the 1940s and '50s.
"Joe and (L.O.) Ty Cobb really got that tournament going," Earnest said. "He had his hand in everything locally in athletics until he moved away."
After a two-year stint coaching at rival Mark Morris High, Moses coached and taught in a number of California communities. He became lifelong friends with legendary UCLA men's basketball coach John Wooden while working summer camps. Wooden wrote a letter of support to the Longview School Board in 2007 when a grassroots effort was formed to name the R.A. Long gym in Moses' honor.
"You richly deserve this honor in recognition of your many years of devotion to the youth of Longview in this special classroom," Wooden said in the letter. "There is always joy in learning that something you have said or done has been meaningful to others, and I am certain that you see that constantly in those who have been under your supervision in the past. ..."
In a 1995 TDN story, Moses revealed some of the secrets of his longevity and love of teaching.
"Today I've got to be over at Butler Acres Elementary, and tomorrow I'll be teaching auto shop at Kelso High. I don't know one end of a car from the other. ... When I sub, I always utilize the good and smart kids in the class. They know what to do. I just go in and handle things."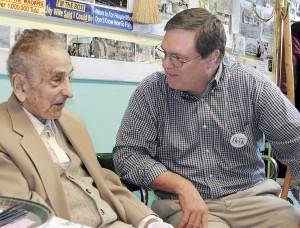 In his later years, Moses found it difficult to dine in a restaurant without being noticed.
"We were sitting in a restaurant in Olympia a couple years ago when a guy came up to the table," Ammons said. "He said he recognized Joe and remembered the stories his father had said about him. I was always amazed at the number of people who knew Joe."
Moses is survived by a brother, Ed Moses of Spokane. He was preceded in death by his four brothers, John, Tom, Albert, Ellis; and two sisters, Mary and Julia.
A Celebration of Life will be held at 2 p.m. Sept. 28 at the Faith Temple, 2203 38th Ave. The Rev. Bob Giles will officiate.