The sound of clapping paddles filled the gym. Tables were lined parallel to the sparsely filled bleachers. A few loud grunts harmonized with the clicking of plastic balls on the gymnasium floors.
After a quick warm-up, the games began.
Sixteen players — some who traveled from as far as Portland — gathered at Youth and Family Link for a table tennis tournament hosted by the Cowlitz Table Tennis Club.
The tournament was the first open tournament the club has hosted since its inception four years ago. Saturday's competition was a double round-robin tournament. Some players gathered on the bleachers to eye their competition as they waited for their next game.
Vance Robinson, 51, of Rainier headed the formation of the club, which began with a core five players and has since expanded to more than eight table tennis regulars at its Sunday gatherings. Robinson, the organizer behind the tournament, first tried his hand at the sport when he was 5, but he didn't begin honing his game until his college years.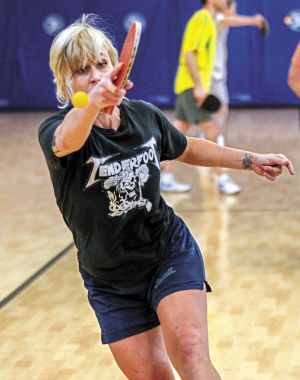 At Saturday's tournament, his finesse with a paddle seemed to come naturally. While others swung with such power that one might think the hollow balls held the weight of a bowling ball, Robinson made it look easy.
Jayendra, one of the original members of the club, has a similar background — he grew up with a working knowledge of table tennis before becoming more serious about improving his game.
"I think the story for most of us is we played when we were kids, and then we stopped playing for awhile," Jayendra said. "Then we came back because it's such a fun, healthy sport."
One allure of the sport, Jayendra said, lies in its versatility — it can be played year-round virtually anywhere. This flexibility was never more apparent than Saturday. Even as rain beat down on the gym's roof, the competitors barely skipped a beat. Because the game can be played at indoor and outdoor venues alike, it's rarely compromised by the rainy days characteristic of the Pacific Northwest, Jayendra said.
Robinson added the game also provides more exercise than meets the eye. He often sports a pedometer to his Sunday gatherings, clocking eight to 10 miles by the time he leaves his four-hour practice.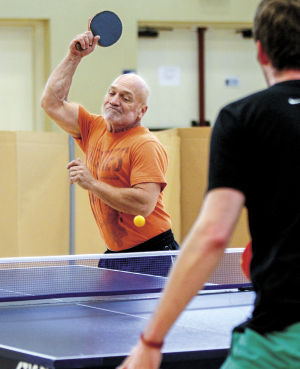 Dale Bailey, 74, was also present at Saturday's tournament. A two-year veteran of the club, he admitted he doesn't have as much experience playing the game. Though he said he's a slow learner, Robinson said he's made progress since joining the club.
"I never got to play much (before joining the club),' Bailey admitted.
Tim Titrud, founder of a Portland-based table tennis club, took the winning title at the competition.
And it only makes sense. The 54-year-old table tennis player hasn't retired his paddle since first picking one up in his early college days.
"For me, it's just I always enjoyed (table tennis)," Titrud said. "It's like a lifetime sport. I can still play at 54 at a competitive level unlike other sports."
Even after the tournament culminated, a few club members lingered in the gym to sneak in a few hits. It was practice, perhaps, to prepare for their weekly Sunday session. Saturday tournament or not, their Sunday sessions are a staple for the core club members.
"I showed up here one Sunday evening, and I've never missed since," Bailey said.