Authorities seized more than 100 dogs and 21 horses — including four horses that were critically emaciated — from a rural Rainier property Wednesday afternoon and said the owner likely will face charges.
Law enforcement and Oregon Humane Society officials would disclose the name of the owner of the alleged puppy mill. According to Columbia County Assessor's records, though, the property at 25888 Karr Road is owned by Catherine A. Setere. Setere also is listed on-line as an Akita breeder and owner who has shown at least one dog in competition.
Setere did not immediately return telephone calls left Wednesday afternoon.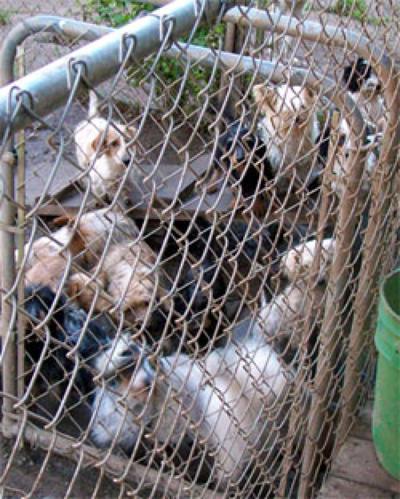 Officials said the their main focus Wednesday was gathering evidence taking the animals into custody.
"The biggest concern was the unsanitary conditions they were living in," said David Lytle a spokesman with the Oregon Humane Society in Portland. "There were huge amounts of feces and urine and dogs in conditions that no pet should ever have to live in."
Dogs still were being checked by medical stuff, but at least some were underweight and had very dirty and matted fur, Lytle said. Some were basically "living in mud" in outdoor kennels that hadn't been well maintained, he said. The stench, even outside, was overpowering, Lytle said.
"We undertook today's rescue operation to stop the suffering of these animals," said OHS Executive Director Sharon Harmon in a press release. "The dogs at this breeding facility were living in shocking conditions."
The dogs include 35 Akitas as well as many dachshunds and other small dog mixes, including terriers and poodles. They ranged in age from puppies to adults and were part of a commercial breeding business, Lytle said.
The owner also had 21 horses on the property. Several were emaciated. Vets use a horse version of the body mass index and four of the seized horses were at a 1 — the lowest ranking possible, Lytle said.
"We're very concerned about those horses," he said. "They're in very critical condition."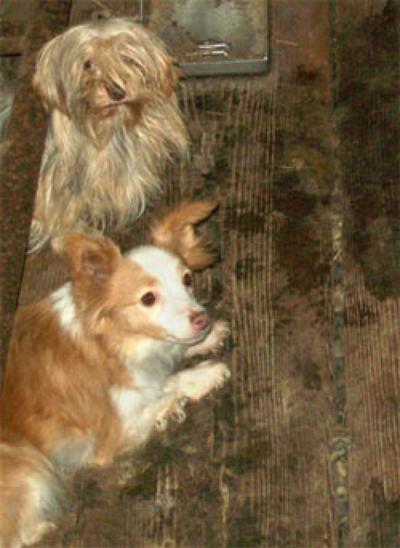 The horses were taken in by Sound Equine Options of Gresham, Ore. The dogs were split between the Columbia Humane Society and the Oregon Humane Society, which set up a separate emergency shelter in a warehouse for the seized dogs.
A citizen lodged complaint about the property with the Columbia County Humane Society in late October, Lytle said. Animal control authorities declined to identify the property, but the Columbia County Sheriff's Office released the address, where it helped served a search warrant. The property is on a remote, dead end road south of Rainier.
The local humane society investigated and called in OHS when the scope of the breeding operation became known, Lytle said.
"We're about one of the only shelters in the Northwest that could handle this many dogs," he said.
To gain access to the property, officials obtained a court order, which was served at about 7:30 a.m. Wednesday. The property had several "No Trespassing" signs posted Wednesday. Horse trailers and vans from both the Columbia and Oregon humane societies were seen entering and leaving the property Wednesday afternoon. Lytle said the animal recovery work likely would stretch into the evening.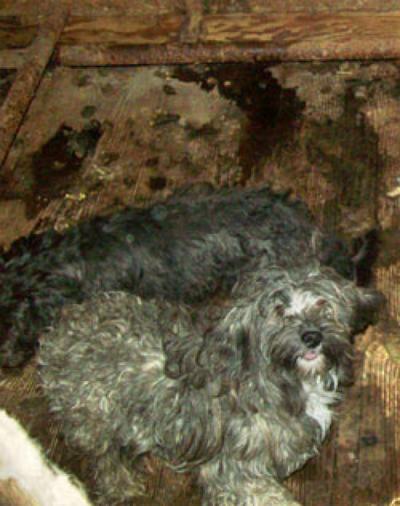 The breeding facility is under investigation for failure to provide minimum care for animals, including adequate shelter and potable water, according to an Oregon Humane Society press release. The animals' owner could face multiple counts of animal neglect, each punishable by up to one year in jail and a $6,250 fine. The operator could also be in violation of the Oregon Puppy Mill Act, which prohibits breeders from having more than 50 breeding dogs at one facility and which also mandates minimal care standards, OHS officials said.
Cora Dreyer, a former Great Dane breeder who lives near Setere, said she was shocked at the news Wednesday, adding it didn't sound like the breeding operation she's observed over the years. She hasn't talked to Setere since the spring, but said she could sometimes hear dogs barking.
Dreyer said county officials have been systematically forcing most licensed dog breeders out of business by increasing regulations and requirements. Her own business was sold this summer when it became too expensive to keep up with a third round of required improvements to her kennel, Dreyer said.
"They've just about put us all out of business," she said.