Artists sometimes set up their easels on scenic shorelines to sketch and paint. A trio of painters from this area have been adding wind to the process by setting sail for weeks-long cruises off the western coast of British Columbia.
Dee Vadnais of Deer Island, Ore., and Erik Sandgren and Kathryn Cotnoir of Aberdeen have sailed the waters along Vancouver Island and coastal B.C. four times, visiting many nearly deserted First Nations villages.
The result is "Voyages to Haida Gwaii," an exhibition of 300 paintings and drawings that opens next week in the Lower Columbia College Art Gallery. Haida Gwaii is the official name for what used to be known as the Queen Charlotte Islands.
Sandgren and Vadnais have known each other since they were children. And Sandgren, who teaches art at Grays Harbor Community College, is married to Cotnoir. "We paint all the time, typically Oregon landscapes," Vadnais said. "For us, it was a great adventure" to head north.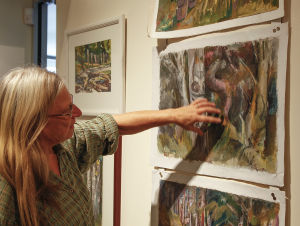 The three artists first voyaged together in 2005, with Vadnais' husband, Paul Seamons, as skipper. They cruised in the SV Blue Pteron, a 43-foot cutter-rigged sloop. The two couples made subsequent trips in 2010, 2011 and last summer.
Many of the places they visited are assessable only by water. They would anchor and come ashore in their dingy, perhaps hiking into the old-growth forest. Some of the villages have resident caretakers who would explain the significance of artifacts and point out burial sites to be respected.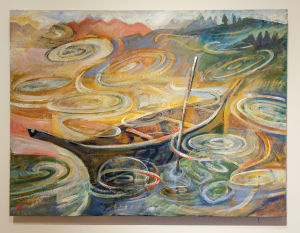 Many of the artworks focus on totem poles that date from the 1800s. "They have been there since the smallpox epidemics," Vadnais said. "That's why the islands were depopulated."
"You come on the beach and there are the poles," Vadnais said. "You get the sense this is where their canoe landing beaches and houses were. It's something quite moving."
The artists also visited the U'mista Cultural Centre, which holds native artifacts that were confiscated when Canadian authorities banned the potlatch ceremony. "We spent a lot of time in Alert Bay looking at these fabulous things," Sandgren said.
Vadnais and Sandgren worked mostly in watercolor and acrylic because they're simpler media than oil painting to use in the field. "The beauty of these canvasses is that it rolls," Vadnais said. "That's how we brought it back -- in big binders."
Cotnoir works more in pen-and-ink; her works tend to be smaller.
"We worked side-by-side," Vadnais said. "We often have three paintings of the same scene." The LCC exhibition is organized by the sites where the paintings were inspired.
"Erik, particularly, has done the imaginative work mixed in with the specific," Vadnais said. For instance, one of Sandgren's works, "First Contact," shows his vision of the first time robed Jesuit priests came ashore. Another of his paintings combines images of petroglyphs and contemporary native fishermen in a boat with an outboard motor.
The artists deliberated avoided copying the artistic styles of Canada's traditional Northwest coast natives. "We try not to copy designs that belong to them," Vadnais said.
Despite their differing styles, the artists' palettes are consistent, with browns and greens and few bright colors. "We're on the same kind of color mood of place," Sandgren said.
Seamons isn't an artist. "Paul is feeding us and taking care of the boat" during the trips, his wife said.
Many of the artists' works are hung without frames, to replicate the sense of working in the field. They mounted the canvases with magnets on metal strips tacked to the LCC gallery walls. "It doesn't pretend toward perfection," Sandgren said. "It's more like a process."
The artists plan more trips together -- even up to a month together on a boat didn't strain their friendships. "It's amazing," Vadnais said. "We'll come home and get together the next week. I think it's the painting that does it."