Take a stroll along the Salmon Creek Greenway Trail in Vancouver and you will soon see that the cold, wet days of winter have not dampened the spirits of local fishermen.
The wader-clad anglers strolling the trail are almost as numerous as folks walking their dogs. A quick glance at the creek shows fishermen dropping their lines into just about every hole.
These are winter steelheaders: devoted sportsmen that would rather be out in a pouring rain chasing steelhead than doing just about anything else.
And then there are the trout fishermen. Huddled around the banks of Klineline Pond they also seem unaware that it is raining, concentrating on their bobbers and lines. Every so often one of them pumps their rod and brings a rainbow trout to hand. This is a quiet group more apt to concentration than talking, as this reporter found out.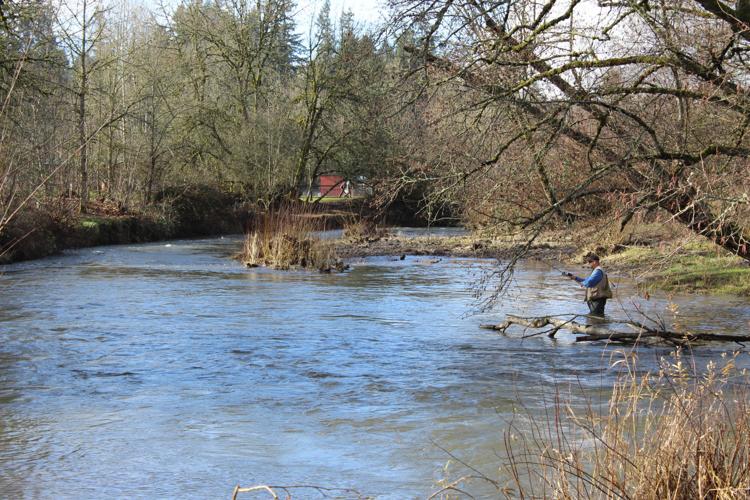 Salmon Creek
Winter Steelhead
Salmon Creek winds its way through Clark County before emptying into the Lake River a little north of Vancouver. Hatchery steelhead fishing here was given a boost when the state started planting more steelhead smolts.
The additional fish were shifted from other Washington rivers that have been designated wild steelhead gene banks. These are streams that are set-aside by the state for protecting wild steelhead, and hatchery steelhead are not planted.
Salmon Creek used to receive an annual planting of about 20,000 smolts. The steelhead returning this year were planted in the spring of 2016 when over 32,000 juvenile fish were planted. The new target is for about 40,000 a year.
Winter steelhead are ocean-run rainbow trout that average about six to eight pounds and can run up to 20 pounds or more on occasion. They are known for their aggressive nature and fierce fighting ability.
Fishermen did very well in Salmon Creek during the month of December, although January has started a little slower. Heavy rains and high water may be to blame since small-stream steelhead success is related to stream flows.
On a recent Saturday Garett Morrison of Vancouver was tossing spinners in the creek at the Salmon Creek Regional Park. He said he had hooked three steelhead over the past couple days, but had lost two of those.
"I throw a lot of spinners and spoons," said Morrison. "That's what I catch most of them on."
He added that good colors include blue and silver combos, gold and silver, and straight silver.
His friend Ben Chin, also of Vancouver, was trying to entice a bite by working a bobber and jig. Bobber fishing is very popular in Salmon Creek, and most angler's fish slip bobbers with jigs, bait or beads.
The shallow creek lends itself to fishing spinners and bobbers as opposed to drifting baits or corkies. The narrow stream has a lot of grass and brush along the banks and a bottom that is rocky and filled with snags. Drift gear is difficult to fish.
Chase Anderson of Vancouver was tossing spinners, too. He was surprised at the slow bite.
"I don't often leave without a fish or two," said Anderson.
He likes to fish Salmon Creek after the dawn crowds thin out.
"Fishermen beat it (the creek) up at daylight. I like fishing it in the afternoon after the fish get a chance to rest and settle down," he said.
The center of the action on Salmon Creek is the Salmon Creek Greenway Trail, a paved trail that follows the creek. Most fishermen park at the regional park or the Vancouver Girls Softball Association fields, both along NE 117th Street, and walk the trail to access the best holes.
Public access in other sections of the creek is limited, so most anglers target the reach along the greenway trail. Anglers are reminded to observe and obey posted signs, and stay off private property.
About half of the steelhead are acclimated in net pens in Klineline Pond and released at the footbridge in the park. The other half are planted further upstream.
The daily limit is three adipose fin-clipped steelhead. Wild un-clipped steelhead must be returned. Barbless hooks are required, as is a Columbia River Endorsement. All hatchery steelhead landed must be retained. Always check the regulations before fishing.
Klineline Pond Rainbow Trout
Trout fishermen flock to Klineline Pond every winter to sooth their penchant for trout fishing. Liberally stocked with catchable rainbows the small pond is easy to fish. It is a favorite gathering place for adults, and for kids. The pond is an excellent place for kids to fish, and it hosts a very popular summer kid's fishing event.
However, on a rainy afternoon like this one only fish-crazy folks surrounded the pond watching their lines and bobbers very intently. A pair of youngsters debated whether one of them was getting bit, before he raised the rod and started reeling it in.
The pair added the little rainbow trout to their stringer and they cast out again.
Most fishermen were fishing bait off the bottom or suspended below a bobber. A single angler waded out to cast a few lures. It didn't seem to matter what was being used as bait. All the fishers were catching trout.
The daily limit is five trout over eight inches.
Clark County Parks charges parking fees year-round at Salmon Creek Regional Park/Klineline Pond. Daily parking fees are:
$6 for cars and trucks with trailers
$8 for buses or motor homes
These are parking fees, not entrance fees. There is no charge for people who walk or bicycle into Salmon Creek Regional Park/Klineline Pond.