Karkat Stafford admitted he's made some new friends since joining a club at the library. But he's lost some, too.
Stafford, a 15-year-old student at Mark Morris High School, joined the Rainbow Community, an LGTBQ club (Lesbian, Gay, Bisexual, Transgender, Queer or Questioning ) for middle and high school students hosted at the Longview Public Library, less than a year ago. Stafford, born Chloe, identifies as bisexual and transgender, transitioning from female to male. He peeks out from behind a few wisps of short red hair. A pink pin is fastened to his black shirt. On it, a unicorn with a rainbow mane peers back.
At a Monday Rainbow Community meeting, a group of about a dozen students is gathered in the library splashing paint on a sheet of paper, preparing it for the annual Go 4th parade. On Friday, they marched in the parade alongside Lower Columbia College's Gay/Straight Alliance and Parents, Families and Friends of Lesbians and Gays (PFLAG).
Stafford sits in a chair, nervously twisting a gum wrapper and regularly shifting his gaze down toward his hands.
"It's supportive and also hard," he said of being part of the LGBTQ community. "There's people who try to say really negative things to put you down. They aren't nice at all about it."
Stafford remembers first discovering his sexuality in seventh grade. Since opening up about it, he's experienced some negativity.
"I figured out my sexuality, and nobody really appreciated it," he said. "Then when I came to high school there were other people who had my sexuality, and they told me about this group, and I decided to come here and see what it was like."
The group, he said, is "fun and relaxing." It helps him momentarily mute the rude comments people make about his sexuality, he said.
"Here, everybody accepts who you are," he said.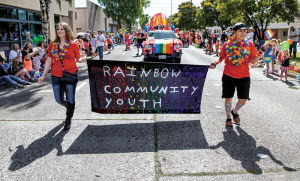 Sparrow Center, a 12-year-old student at Cascade, finds similar support within the club, which draws as many as 30 students to its Monday meetings.
"It's more like a safe haven where you won't have to be judged," said Center, who is bisexual. Center said she's been bullied about her sexuality. The brunt of the bullying comes from classmates who began teasing her after they discovered she is bisexual.
"Before people knew that I was part of the LGBTQ community, they just ignored me at school because I'm different," she said. "But they found out by eavesdropping, and I've been bullied for five months. It's kind of harsh."
But the 12-year-old considers personal attacks on her sexuality marginally easier to bear than more general attacks on the community with which she associates.
"I'm used to being made fun of and bullied," she said. "Only when they say stuff about gay people, I get angry, and that's hard to deal with."
Center discovered her bisexuality a year ago, first revealing it to her friend, Stafford. She's been attending the club for about nine months. Unlike some students in the club, Center has a support system from her family. Like Center, Stafford receives some support from his family, though he said a few family members peg his sexuality as "a phase."
Some friends still refuse to call Stafford by his new name, holding tight to his given name, Chloe.
"People are like, 'I refuse to call you Karkat because you're a girl, and you're not a boy yet,'" Stafford said. "Especially my ex; he thought it's funny to say that."
He eventually hopes to legally change his name to Karkat, which he chose for its uniqueness. For now, Stafford finds the support he needs at the Rainbow Community.
Students can find an accepting environment at the club, which is viewed as a safe hub where sexuality isn't a means of discrimination, but a common thread that ties its members together. The club is regularly attended by those who identify as LGBTQ or as a supporter of the LBGTQ community. Natalie Bingman, a 15-year-old student at R.A. Long High School, attended Monday's meeting accompanied by her sister Nailynn, 12. Nailynn is straight, and Natalie chooses not to identify.
"Longview and Kelso I don't think are places where gays can be as gay or bisexual or whatever they are because there are a lot of judgmental, homophobic people here," Center admitted. "It's easier to open up to a community that already has open gays in it."
Emma McKittrick, 15, has been a Rainbow Community regular for six months. The Mark Morris student, who is questioning, said of the Rainbow Community, "I kind of feel like it's a place to be with people who share the same values and have the same opinion of gay rights, obviously, as I do."
McKittrick joined in at the Monday meeting to help decorate the banner for the Go 4th parade. Rowan DiGerlando, 15, also pitched in. Unlike many of the other club members, DiGerlando, who is gay, isn't new to pride parades.
DiGerlando moved to Longview from Olympia, where he grew up with his two moms. The family regularly participated in pride parades, he said.
"I'm excited about (this parade) because it kind of makes me think of how where I came from they had a Pride Day, and they had a pride parade, which I was in almost all the time since I was really little," he said. "It's exciting to see it and be part of that."
Leaving Olympia for Longview was hard for DiGerlando, who admitted he feels his former home is more accepting than Longview. He began attending the Rainbow Community meetings at the suggestion of his mom, Amber DiGerlando, who is a parent facilitator for the club. Adapting to a new community was difficult, but DiGerlando said he's found friends who share similar values.
"One of the first few things I told people when I first met them (in Longview) was that I was gay, and that I had two moms," he said. "Those who didn't like the fact that I have two moms or that I am gay, they weren't friends anyway."
Stafford echoed DiGerlando's sentiments later on, emphasizing the waves of friends that have come and gone on his journey to discovering his own sexuality.
"I've made a lot of friends, and I've lost a lot of friends," he said, confidently. "But that just shows that friends who are still my friends now are going to actually accept me."