In one of the funniest scenes in "Bullshot Crummond," Chace Smell must be quick with his lines and his feet. Smell plays the bald, diabolical German field Otto Von Brunno, who's donned a gown. He keeps talking as he steps behind a screen and emerges on the other side as a Chicago gangster who has hair.
Having one actor play two characters who are talking to each other is typical of the silliness in "Bullshot Crummond," which opened Wednesday at Lower Columbia College and continues for the next three weekends.
The play is a spoof of the British pulp fiction private eye-Bulldog Crummond ("detective, patriot, hero and gentleman"), which first appeared in the 1920s.
Along with the play's outlandish characters, the comedy comes from efforts to recreate early film special effects. Near the beginning of the play, a German plane is represented by a model held on a pole above stage and illuminated with a spotlight. So are the two characters who parachute to the ground.
The invaders are none other than the nasty Otto Von Brunno, a stereotypical German villain, and his partner in evil, Lenya Von Brunno. The part of Leyna is written for a femme fatale, but LCC director Don Correll changed it to Otto's mother to suit the age of Wendy Howard-Benham.
The fiendish mother and son want to steal a formula to make diamonds devised by absent-minded British Professor Fenton, after which they think they can destroy the international diamond market. The Von Brunnos kidnap the professor, but his lovely, innocent daughter, Rosemary (Larissa Gonzales) works to free him. To the rescue comes the upstanding detective Bullshot Crummond (Corey Farmer), and of course he and Rosemary are smitten with each other.
The plot twists and turns, more a vehicle for gags and outrageous situations than anything else.
Along with the plane and passengers, models of birds glide above stage, including the requisite Center Stage pink flamingo. Stuffed birds are tossed on and off-stage. Lenya has a pet falcon, portrayed by a wooden creature with flapping wings.
As Smell said in an interview, "fans of Monty Python will come to see this."
+1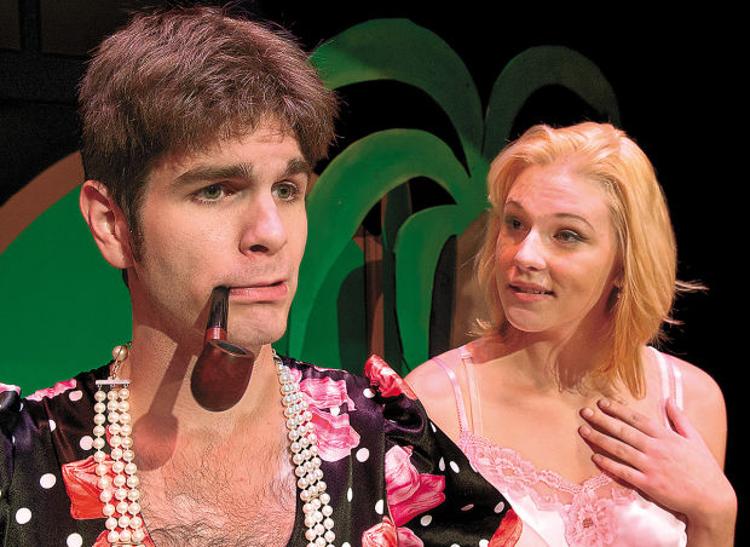 Smell, who's a senior at Mark Morris High School, is particularly good as Von Brunno, his eyes wide open in classic German villain style. He struts stiffly about the stage, tossing in a Nazi salute here and there. Smell's resounding evil laugh is spot-on. As his mother, Howard-Benham is a formidable "hun she-devil," too. Because the role was tweaked to make her Otto's mother, her character could add more motherly disapproval of Otto for added comedy, however.
Farmer stays appropriately gallant as Crummond, despite the odd disguises his character wears. These include a dress and a 1920s-style swimsuit with shoulder straps and an unsubtle insert that relates to his nickname "the big man." The poor chap just doesn't comprehend that some of his behavior can be inappropriate in polite society.
Matt Olason keeps busy by playing seven actors. One of his better roles is the unflappable waiter who must put up with Crummond's abuse. He also is funny as a hunchback Cockney crook.
Gonzales has the right air as an innocent damsel, though she could swoon more deeply over her hero Crummond.
Connor Clark plays a British upper class twit named Algernon, a name borrowed from Oscar Wilde's "The Importance of Being Ernest."
Along with twits, heroic gentlemen and malevolent Germans are equally spoof-worthy.
Smell had this to say about Von Brunno and Crummond: "He and I are both idiots. He just ends up winning."