In a computer lab at Lower Columbia College, a handful of middle school students sit hunched over keyboards, noses mere inches from screens.
Their muddled conversation is interrupted only by an intermittent "oh" or "ah" and the clicking of tiny fingers on keyboards.
In the adjacent room, students grouped at tables use a more tactile approach than their keyboard-hovering counterparts. Pieces of paper and uncapped markers lay splayed on desks as the students outline, clip and piece together cutouts to create mini masterpieces.
The students — who attend a number of local middle schools and one in Kalama — are participating in LCC's STEM program, which hosts one workshop each quarter to guide students in the areas of science, technology, engineering and mathematics.
On a rainy Saturday, 40 students are huddled in two rooms of LCC's vocational building for a digital art lesson on tessellations and fractals — two concepts easily morphed into math-based art projects and brain teasers for the students.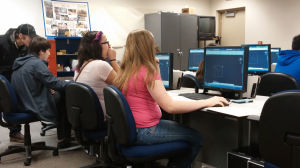 During the first half of the day, students in the computer room form tessellations on AutoCAD — a program used to create 3D designs — while those in the neighboring room create their geometric patterns with markers and paper cutouts. Later in the day, the students switch rooms, allowing both groups the opportunity to craft their art projects both digitally and manually. Instructors guide the students' creative energy while simultaneously encouraging them to make their designs unique — calling upon both their inner Pascal and Picasso.
Keeping in mind STEM values, instructors reinforce the mathematical concepts that comprise fractals and tessellations. Some students' creations adopt animalistic shapes, while others remain conceptual in nature.
"I don't know if they're interested, but I am," said Jay Opgrande, Mount Solo Middle School's principal, who attended the program alongside several Mount Solo students. He mentioned his interest in bringing programs similar to the day's workshop to his school, noting the appeal it might have to those invested in the robotics club.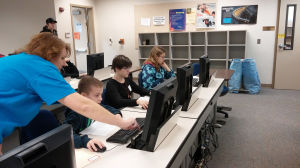 "We wanted to do something that was more attention grabbing for middle schoolers," said Bryn Byker, a math instructor who led the AutoCAD classes. The day's workshop is one of the more successful STEM workshops hosted by LCC, she added. The digital art workshop had a waiting list of about 10 students, half of whom were accommodated after last-minute cancellations. Those who were unable to snag a spot will be given priority registration for an upcoming workshop, said Natalie Richie, executive assistant to the vice president for instruction. The free workshops often are accompanied by a waiting list. Twenty students were placed on the waiting list for last summer's weeklong Catapult workshop, which typically has the longest waiting list.
Past workshops have focused on Frankenfoods, or genetically modified organisms, and even spiders, which had students scouring the LCC campus for eight-legged samples to later identify.
The first workshop — hosted in fall 2007 — engaged students in a crime scene investigation.
"We had written up a scenario and had them identify some unknown substances," said Adam Wolfer, a chemistry teacher at LCC.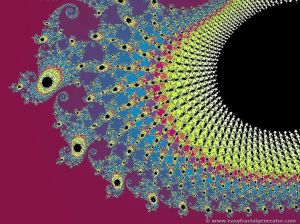 The first workshop was funded using a special state allocation available to community colleges to host workshops that engage students in the STEM fields. Subsequent workshops have been financed using college funds and LCC Foundation money, said Sue Groth, director of College Relations and Marketing.
"The purpose of offering science-related activities for high school and middle school students is to teach the younger students about science and motivate them to consider careers in the science field," Groth said. "We know there are going to be a lot of careers in those fields."