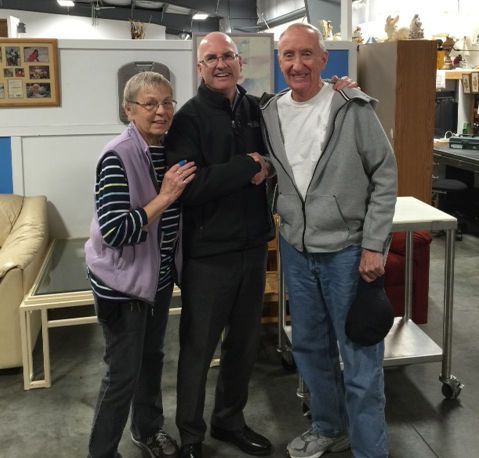 The search for the Great Pumpkin is over. The TDN 'Great Pumpkin' was found where the concrete wall ends and the hedges begin in the north parking area of the Kelso train station.
The Great Pumpkin was found by someone who wishes to remain anonymous. In a letter given to The Daily News, the said that "life is about experiences and memories. I will keep  this memento to remind me of the years I fell 'just short' of finding the prize and the time I finally found it."
The reader also asked that the $500 gift card prize be given to a local charity of TDN's choice. On Tuesday morning, TDN Publisher Rick Parrish gave the gift card to St. Vincent de Paul Society.
Thanks to everyone who participated.
Explanation of clues:
1. It's almost always a clue: it's outside.
2. You can't get a burger here but you can at Mary's Burgers: no burgers at the train station.
3. Brick or cement ... take your pick: the train station is made of both concrete and brick.
4. You could go far: take a train ride to southern California.
5. Ivy: there's ivy in the flower beds at the station.
6.You could stay close: take a bus or train to Vancouver.
7. Mount St. Helens isn't nearby: the train station is at the corner of Ash and First streets.
8. Cross a bridge or not: depends upon where you live.
9. Don't break the law: KPD is just down the road.
10. What time is it?: the clock tower at the train station.
Unpublished clues:
11. 1995: formal dedication of the station after remodeling on Sept. 23, 1995.
12. Tree lighting: held at the train station.
13. Don't buy a tractor: Watkins is next door.
14. Coast Starlight: a train you can catch at the Kelso station.
Virtual Newsroom
What would you like to send us?
Most Popular
Contests

Pick the 10 drivers you think will finish 1st through 10th for each race. Your top 15 races count as your overall score. Compete for great nat…
Don't miss out! Sign up to receive email alerts!