MINNEAPOLIS — Cy Amundson realized his world had changed when he tried to sell his pants.
On his new Snapchat sports show for ESPN, the Minneapolis comic was riffing about how University of Michigan football coach Jim Harbaugh's khakis failed to sell at a charity auction. Amundson decided to auction off his own jeans and invited viewers to message him their bids.
"I woke up the next day to a phone that might as well have exploded all over the room," said Amundson, whose previous relationship with Snapchat was limited to checking out photos of his brother's dog. "That was a real wake-up call."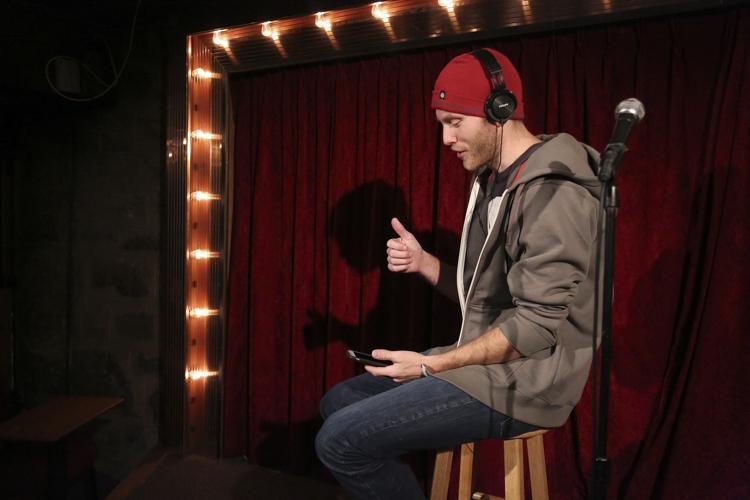 The kind of numbers he's racking up on Snapchat — a gig that requires Amundson to commute weekly to Bristol, Conn. — and the podcast he hosts in Tom Barnard's studio above Acme Comedy Co. in Minneapolis has convinced him that new media are driving a golden age of comedy.
Today, commuters can tune their car radios to six satellite radio stations dedicated to stand-up comics. Teens can do their homework to classic bits on Pandora. Insomniacs can choose from hundreds of Netflix specials featuring everyone from Richard Pryor to Ali Wong.
But nothing quite beats the experience of seeing comedy live, even if it means putting up with overserved hecklers. Instead of keeping fans holed up at home, podcasts and social media are bringing them out to their local clubs.
Acme is enjoying its strongest business in a decade, said owner Louis Lee. More than 18 million people visited a U.S. comedy club in 2016-17, a 25 percent increase from 2008, according to Statista, an online market-research portal. Collectively, the nation's top 10 comics earned $375 million in the past year, Forbes reports, more than double the year before.
Comedians such as Tom Segura — respected, but hardly a household name — can pocket roughly $40,000 from just a couple of nights at modest venues such as the Woman's Club of Minneapolis. For them, streaming platforms have replaced "The Tonight Show" as the best tool to attract an audience.
"The problem with the old days was that Johnny Carson dictated who was famous," said Acme favorite Dana Gould. "My style didn't lend itself to the five-minute format on talk shows, so I was always handicapped." In 2012 he launched "The Dana Gould Hour," a monthly podcast. "With the podcast, I just went around that. There's a great, punk-rock, DIY aspect to it that I really like."
A Nielsen report released last month estimates that 24 percent of Americans — 67 million people — listen to podcasts at least once a month, up from 21 percent in 2016.
Comedy podcasts aren't nearly as popular as news-driven programs — "The Joe Rogan Experience" was the only one to crack iTunes' top 10 two weeks ago and Marc Maron's much-lauded "WTF" was 80th — but connecting with even a relative handful of listeners can have a bigger payoff than TV or morning radio.
Retweet a follower or confess your most personal fear into a listener's earbuds? You'll have a fan for life.
"It's more than just coming to the show. They really want to hang out and meet you," said Kate Quigley, who hosts the podcast "#DateFails" and is a regular on Bill Burr's and Al Madrigal's digital network All Things Comedy. "That connection is what makes them go, 'Oh, Kate's in town. She wrote me back last week. I'm going to grab five friends and go see her.' They feel like they know you."
Creating that connection takes more than just plugging your next tour date or snapping a photo of your hangover breakfast. It means monitoring your cellphone from morning to night.
After a recent show at Rick Bronson's House of Comedy in the Mall of America, Quigley confessed that her hand hurt from posting all day long. An hour later she was sharing photos with Twitter followers from a nearby bar.
Minneapolis comic Bryan Miller dedicates hours each day to social media while performing regularly at Acme, writing jokes for Costaki Economopoulos' "Quick Snaps" podcast and guesting on "The Bob and Tom Show," available as a podcast and a syndicated radio program.
"You've got to do it all," Miller said. "The only way you don't is if you're Dave Chappelle. And you couldn't become Dave Chappelle now without being on Twitter."
On a recent afternoon, comedian Sean Patton was battling a cold so fierce that he desperately wanted to sneak off to his hotel room to rest up before his evening show at Acme. He even postponed a free steak dinner with Lee.
But he wasn't about to pass up an opportunity to appear on "No Laugh Track," a weekly podcast hosted by former KQRS "Morning Show" producer Justin Severson, even though it attracts only a few hundred listeners.
"People know me more from my podcast appearances than anything else," Patton said between coughing fits and the 2 1/2 hours he dedicates daily to social media.
The original workhorse of the modern comedy age is Dane Cook. He used the internet to build a massive audience in the early 2000s, connecting with fans via the social networking site Myspace and posting material on file-sharing services such as Napster and LimeWire. By 2007, he had hosted "Saturday Night Live" twice and earned top billing in feature films.
"He turned the page for comedy," Lee said. "Before him, kids had no idea what comedy was. It wasn't even on their radar. I learned from him that you've got to pay attention to the kids and how they communicate."
Cook also provided a lesson on how critical it is to change with the times. As Myspace's popularity withered, so did the comic's. He spent New Year's Eve at Mystic Lake Casino's showroom, a decent gig but a step down from his heyday, when he could sell out Madison Square Garden twice in one night.
Many believe that's because Cook's material didn't hold up. As opposed to comedy's last boom in the 1980s and early '90s, when even mediocre talent could secure spots thanks to a glut of venues, the new platforms seem to be winnowing out the riffraff.
"I make my living off of making fun of bad comedy, and I don't have as much to make fun of these days,' said Andy Kindler, a 30-year veteran who ridicules Cook's fame in his act and once offered $1 million to anyone who could prove Whoopi Goldberg was funny. "This is the best it's ever been."